May 26, 2009
My illustrated box set of Animal Alphabet Note Cards published by Card Sharks is now available online.
The 26 blank notecards feature animals from A to Z — ideal for birthdays, thank yous, and everyday greetings and invitations. (They make great kids' room decor and ABC flash cards too!)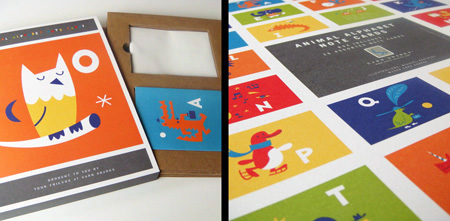 The colorful card set and 26 envelopes come nestled in a sliding cardboard tray housed in a slipcase cover, pictured above at left. At right is the back of the cover.
Card Sharks is a fresh new greeting card company founded by friend and designer Brent Croxton. I'm excited to be part of his whimsical, high-end, earth-friendly product line whose contributors include all-star illustrators Steven Guarnaccia, John Hersey, Don Kilpatrick, Felix Sockwell and Teresa Villegas.
Congratulations to Brent on the launch of this endeavor, and a big thanks for the shout out on the CS blog!