July 11, 2009
The California Academy of Sciences just published an activity book I illustrated for their youngest visitors. Designed by Jon Schleuning and Takayo Muroga at Pentagram's
San Francisco office, Slither Wiggle Waddle & More guides children and their parents to
the museum's animals and exhibits and offers fun facts and activities along the way.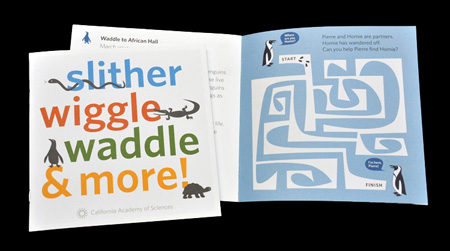 Pick up your free copy at the Early Explorers Cove, an interactive play area with hands-on exhibits and a California backyard garden display. The Cove is located right next to the Lab Junior store, one of the Academy's three retail spaces where you'll find my merchandise and display graphics.