April 16, 2010
The California Academy of Sciences' Extreme Mammals exhibition and the graphics I created for it are now on view. The show originated in New York City's American Museum of Natural History where I had the opportunity to research this project. Both the AMNH and the Academy deliver on their promise of The Biggest, Smallest, and Most Amazing Mammals of All Time, providing great material to illustrate.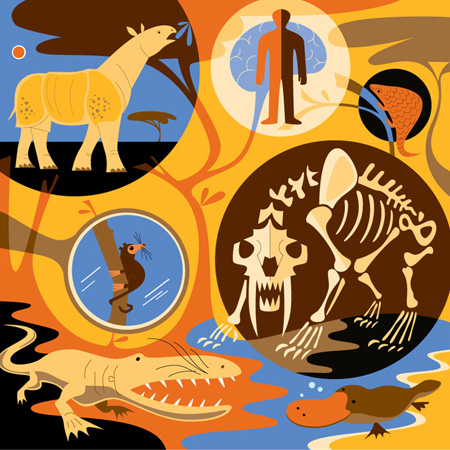 previous CalAcademy work which continues to be featured on apparel and merchandise throughout the museum's three retail stores. The main Extreme Mammals image, shown above, features (clockwise from left): the extinct shrew-like Batodonoides, the smallest mammal ever documented, which weighed less than a twentieth of an ounce or the equivalent of a dollar bill; Indricotherium, an ancient rhinoceros-relative that was the largest mammal to walk the Earth; Homo sapiens; pangolin; Smilodon skeleton; platypus; and Ambulocetus, a "walking whale."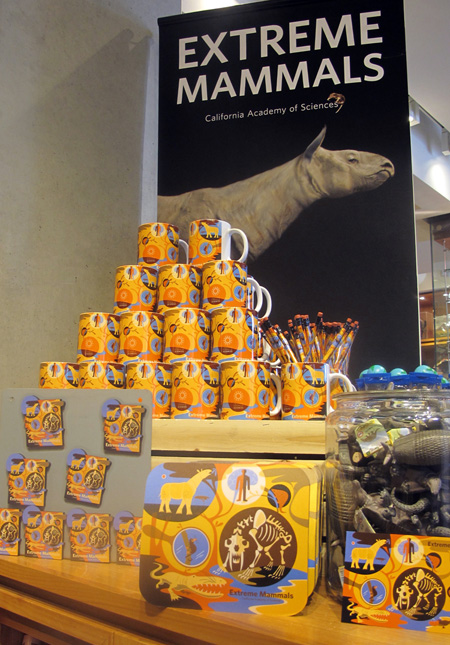 The graphics were commissioned by creative director Rhonda Rubinstein who I had the pleasure of working with on the original theme illustrations for the Academy's graphic wall panels, retail products, and print collateral.
Extreme Mammals is on view through September 12, 2010 at the California Academy of Sciences in Golden Gate Park, San Francisco.