July 31, 2010
On my Asian travels this summer, I came across some reprints of vintage illustrated cigarette cards. I thought I'd share this extraordinary printed ephemera here.

Cigarette cards originated in the U.S. in 1875 and were introduced to China nineteen years later by Britain's Wills Company. British and American firms dominated China's tobacco and card market; only in 1904 were cigarette cards first issued by a Chinese company, the Shanghai San Sin Cigarette Co., Ltd. which was established to offer a domestic alternative to foreign-made cigarettes.
The manufacturers hoped to engage customers with a wide variety of illustrated and photographed themes including Chinese folk tales, proverbs, games, nature, art, drama, physical culture, and trades.
The cards in the photo above were originally produced by the American Tobacco Company of the United States which came to Shanghai in the late 1890s to distribute its Pin Head brand cigarettes in partnership with the Shanghai Jinlong Trading Company.
The back of the original Pin Head cards can be seen here — from the New York Public Library's rather comprehensive digital gallery of cigarette cards from the world over.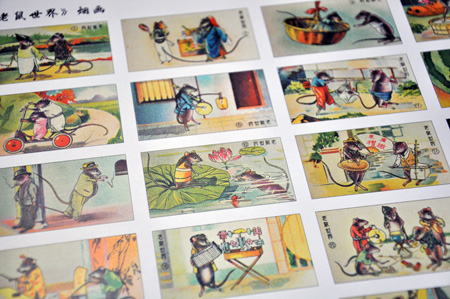 In the 1930s, at the height of cigarette cards' popularity in China, there were over 400 tobacco companies in Shanghai alone. By the Second World War however, the British and Americans had stopped issuing cigarette cards as giveaways and the Chinese card market wound down with the founding of the PRC in 1949. In the 1950s, cigarette card production ceased altogether in China and internationally.
Coincidentally (or not), I came across these reprints in the great tobacco capital of Shanghai. I'll be looking out for original vintage ones next time I'm back in that part of the world. Here's a flickr set of Chinese Opera Mask-themed cigarette cards I'm particularly enamored with, posted by A Journey Round My Skull. Enjoy.