January 15, 2011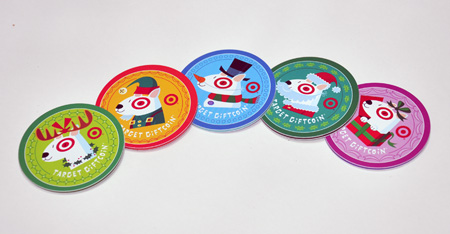 Following the successful debut of Target's GiftCoins, I was commissioned to design a second set for this past holiday season. This new set features Bullseye the Target dog as a reindeer, Santa's elf, snowman, Santa, and a holiday gift.
GiftCoins are GiftCards with the twist of resembling currency. These latest medallions are loadable with amounts up to $200 each and offer shoppers, as the packaging describes, 'a nifty new way to be gifty!'
Big thanks to Julie Hoppner for the awesome art direction. There's more in the pipeline from the Target mint; look for it here and at your local Target store soon.