April 30, 2011
I spent this past month working on an exciting sculptural project titled Handle With Care at
the California Academy of Sciences. The piece took the form of a 16-foot high cardboard
tree populated by cardboard animals representing a variety of species threatened by defor-estation in two disparate locations affected by the pulp industry: temperate and boreal forests in North America, and the rain forests of Sumatra, Indonesia.
Photos of the work in progress and completed installation are posted on my projects blog.
Here are the animal figures photographed independent of the tree. The first six represent endangered species of the North American forests, and the following four represent those of the Sumatran rain forest.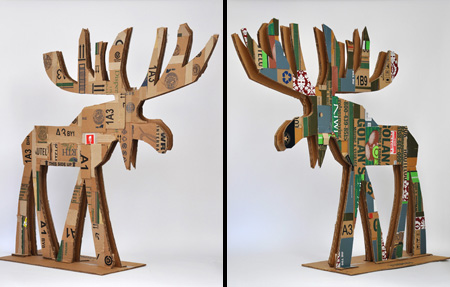 Moose, back and front; 51″ wide x 49″ high x 2.5″ deep.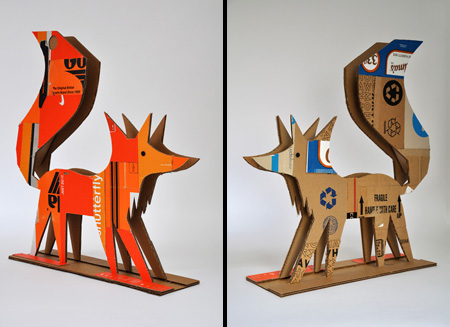 Fox, front and back; 26″ wide x 28″ high x 2.5″ deep.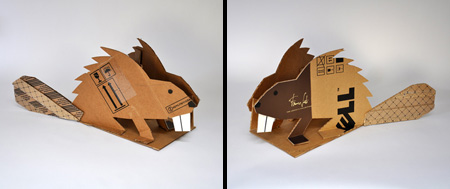 Beaver, back and front; 27″ wide x 11.5″ high x 18″ deep.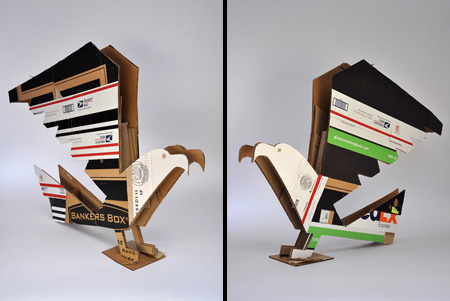 Eagle, front and back; 40″ wide x 30″ high x 3.5″ deep.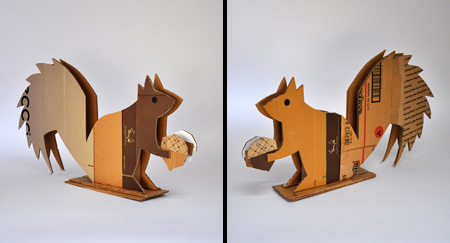 Squirrel, back and front; 30.5″ wide x 16.5″ high x 2.5″ deep.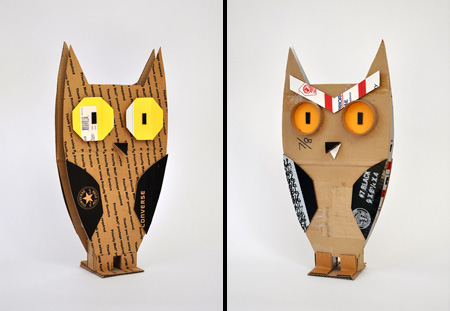 Owl, front and back; 11″ wide x 22.5″ high x 2″ deep.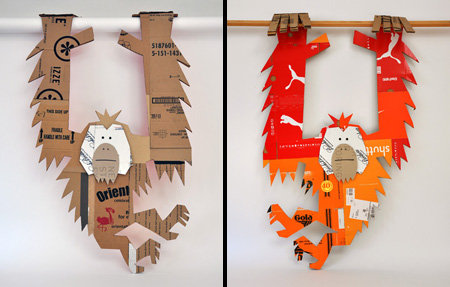 Orangutan, back and front; 33″ wide x 52″ high x 1″ deep.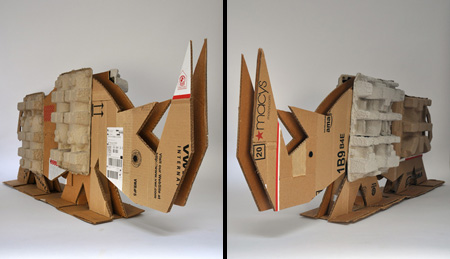 Sumatran Rhino, front and back; 53″ wide x 21″ high x 7″ deep.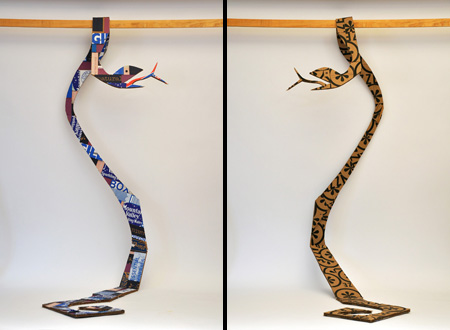 Python, front and back; 20″ wide x 90″ high x 3″ deep.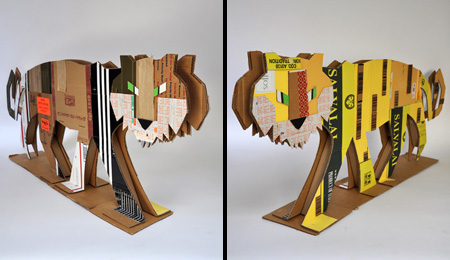 Sumatran Tiger, back and front; 54.5″ wide x 22″ high x 4″ deep.
The Earth Day-themed project was installed in the museum's central piazza, encouraging visitors to reflect on the role recycling plays in protecting forested ecosystems and to inspire re-use and recycling of paper in creative ways. My full project statement is here.
Big thanks to Creative Director Rhonda Rubinstein, Marketing Manager Lisa Ricci, collabo-rator Lili Ong, and the many CalAcademy staff and volunteers for contributing to the project's success.
The tree was recycled at the show's conclusion but the cardboard animals live on. They are individually for sale and may be purchased by contacting me directly.