May 22, 2011
I always enjoy finding notable examples of illustration when traveling abroad. This block of commemorative stamps is such a find, and comes from Mexico where I recently wrapped
up an art workshop trip.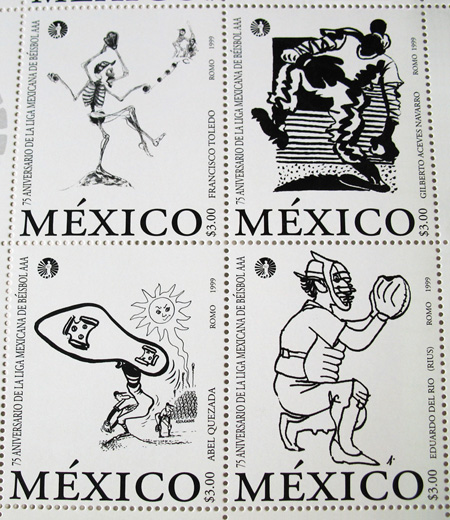 The stamp set marks the 75th anniversary of Mexico's AAA Baseball League and features the work of four popular Mexican illustrators.
Clockwise from upper left, they are Francisco Toledo, a graphic artist well known for his social commitment to his home state of Oaxaca; Gilberto Aceves Navarro, painter, teacher, and member of the Academia de Artes in Mexico City; Eduardo Del Rio (Rius), a widely read political cartoonist, author, and activist; and the late Abel Quezada, another leading Mexican political cartoonist and painter. Quezada created over a dozen New Yorker covers between 1981 and his death in 1991.
My personal favorite of the bunch is Francisco Toledo's esqueletos at play, shown here in close-up.