June 27, 2011
I'm one of ten contributors to the Heartwork project, an art benefit that launched today for Target House, a housing facility for families whose children are receiving life-saving treatment at St. Jude Children's Research Hospital in Memphis, TN.
Each participating illustrator created an original image that was printed in an edition of 40 signed and numbered copies whose proceeds will go towards providing art supplies to children at Target House.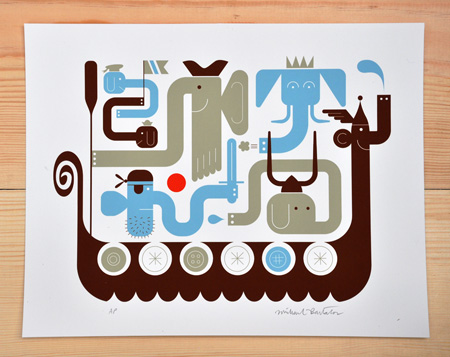 My piece is titled Tuskers Ahoy, picturing a viking ship of pachyderms on the high seas.
Like the other images in this collection, it takes elephants for its theme in reference to
Target House's mascot symbolizing family, longevity, strength and playfulness.
Heartwork prints are purchasable from Poster Cabaret, who printed the archival giclees with pigment inks on archival cotton rag paper measuring 11 inches x 14 inches. This year's other contributing illustrators are: Nate Williams, Katie Kirk/Eighthourday, Johnny Yanok, Scott Thares/Wink, Richard Boynton/Wink, Ryan Clark/Invisible Creature, Don Clark/Invisible Creature, Christopher Lee, and Anna Chambers.
The inaugural Heartworks collection was curated by Don Clark of Invisible Creature, overseen by Ted Halbur at Target, and launched via Grain Edit.