December 10, 2011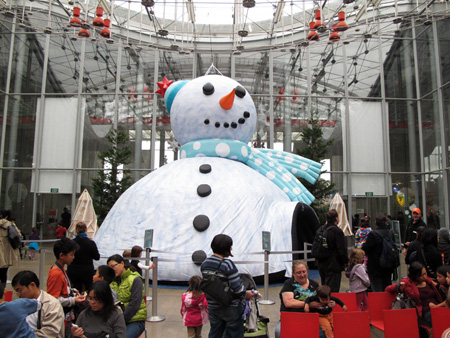 I recently lent a hand in designing the Snow Dome Theater for the California Academy of Sciences' special holiday exhibit 'Tis the Season for Science. The immersive digital dome, shaped like a giant snowman based on my sketches, plays two new shows on the science of snow on Earth and on other worlds.
This is the second (new & improved) year for 'Tis the Season for Science. Attractions include indoor 'snow' flurries occurring every half hour in the Piazza, a pair of live reindeer residing in the East Garden where visitors learn about their amazing adaptations, and the "Spice Forest," a life-size sculptural representation of trees featuring an aromatic display of the raw botanical specimens from which cinnamon, nutmeg, vanilla, and other familiar holiday ingredients come from.
The Snow Dome Theater and bulk of the exhibit are located in the museum's central Piazza space through January 16, 2012.