April 17, 2012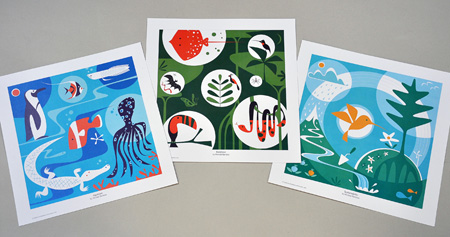 The California Academy of Sciences recently published a set of my museum graphics as prints, available now in the Academy's three retail stores. The package contains three images titled Aquarium, Rainforest, and Sustainability, issued as 10″ x 10″ digital color prints designed to be matted and framed in 12″ x 12″ frames. Three 4″ x 6″ postcards are enclosed as well.
Aquarium features the popular African penguins, the albino alligator, giant octopus, and fishes from the aquarium.
Rainforest is a view into the museum's spectacular four-story dome representing rainforests from around the world. Among the 1600 live animals are many species of birds, butterflies, and snakes.
Sustainability depicts the interconnectedness of life on Earth. The Academy is one of the greenest museums in the world — featuring a living roof, solar panels, recycled steel and other components for which it was awarded a LEED Platinum certification.
These three images are among the twelve original theme illustrations I created for the CalAcademy's wall display panels, retail products, and print collateral on the occasion of the museum's reopening in 2008.